ABOUT SHINE & HUMM
We're Shane and Marianne. Or Shine and Humm. Nomadic wayfarers. Flexitarians. Children at heart. Existential detectives. Seekers of beauty. Believers in magic. And creative collaborators in life, travel and work since 2007.
We leave the door wide open to possibility, allowing intuition to guide our decisions. And given our airy natures (Libra + Gemini), our desire to move and explore is strong. We're Australian and Canadian, respectively. We slow travel between these two countries, making time to visit with family and friends. And then move on to those places that have captured our hearts and imagination, often returning again and again.
We like to settle into a place and immerse ourselves into everyday life. So if it feels good, we usually stay for a while, sometimes a long while. At 40 countries in 6 continents, we're definitely return trippers and are more interested in getting to know a place than simply ticking things off a bucket list. We've probably spent the most time in Australia and Canada (of course). But also Brazil, Colombia, Peru, India, Indonesia, Japan, and the US. For us, home is wherever we happen to be.
Here is what inspired us to start Shine & Humm.
ABOUT SHINE
Shane is the Chief Visual Designer, Head Ninja and Eggs-On-Toast Specialist for Shine & Humm.
UK-born but raised in the picturesque Mornington Peninsula in Victoria, Australia, Shane's wanderlust was ignited during his first solo trip to Thailand in 1996. He's been enjoying a slow-travelling nomadic lifestyle ever since with extended stays and return visits to Brazil, India, Canada, California, Hawaii, Japan and, of course, Peru.
An artist since childhood, Shane's creative inspiration is fuelled by the magical realism of nature and the connection between our inner and outer world. His whimsical illustrations capture the spirited essence of childhood while his photos often provide a close up view of the nearly imperceptible and imponderable. Through his art, Shane unlocks a secret world that exists all around us but so often goes unnoticed.
Shane is an introverted lizard-loving country boy at heart. By trade, he is a freelance creative designer, digital artist, illustrator and photographer who also teaches martial arts (Russian Systema and Brazilian Jiu Jitsu). A wise soul and perpetual seeker, he prefers pictures over punctuation.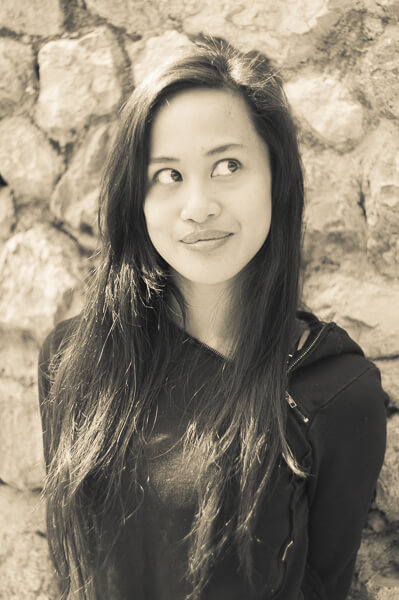 ABOUT HUMM
Marianne is Chief Wordsmith, Assistant to the Photographer, and Executive Majordomo for Shine & Humm.
Born and raised in Toronto, Canada, she was formerly a rat-racing city slicker who didn't own a backpack or know how to cook. That is, until she met Shane, who happened to be nomadding around and decided he liked her enough to ask her to join him in his adventures. After selecting an appropriate backpack and hiking boots, off she went and she's never looked back.
Marianne is part of the 1/% – meaning she is an INFJ, meaning she is perpetually in the process of trying to cultivate calm in the chaos …of her mind. She's a skeptic who believes in magic, an autodidact with no focus. She is the opposite of reticent. And she is determined to be a better person – though she sometimes wonders if that's a pipe dream.
In a past life, she was a marketer and PR specialist, mainly in the field of fashion and retail. In her current incarnation, she writes, teaches yoga, and every now and again develops brand concepts and design for small businesses and social enterprises. And she loves to cook.