Being based in Peru for as long as we had been (more on that in future posts), we were constantly meeting up with friends and strangers travelling through South America. And the country that kept coming up was …Colombia. Of course, Peru was on many bucket lists but everybody who visited Colombia was raving about Colombia.
"You've got to go to Colombia. I can't believe you haven't been to Colombia yet. You would love Colombia. Colombia is amazing!"
Friends regaled us with travel stories of Colombia's beauty and diversity, the friendliness of its people, the charm of its culture. It was a fan favourite among many friends and strangers. So obviously there came a point when we wanted to see what all the fuss was about. And in 2016 we set off to discover Colombia ourselves. At the time, the Zika virus was all over the media and Colombia was one of the hot spots. Added to that, Colombia was, and still is, considered to be one of the world's most dangerous countries. But unfazed by media fear-mongering and understanding that an entire country can't be reduced to a sweeping generalization, we set off – cautious, aware and full of expectation.
Suffice to say, Colombia did not disappoint. What we've seen of the country has captured our hearts. So much so that we relocated in 2017. We discovered that all the reasons people love Colombia were true. And we can easily add Colombia to our list of favourite countries.
Welcome to our 2-part post on why we fell in love with Colombia. In Part 1, prepare to disconnect from the urban and urbane and reconnect with the magical realism of Colombia's natural world.
---
COCORA VALLEY
Hiking through Cocora Valley is like walking through a fairy land. Rolling green hills surround you. And if you choose to walk in this direction, you'll find yourself amid thousands of colourful hummingbirds of all shapes and sizes. Continue on in that direction and you'll come upon the tallest palm trees in the world. Cocora Valley is part of Los Nevados National Park in the department of Quindío, in the renowned Zona Cafetera or coffee region of Colombia.
Cocora Valley sits at an altitude of between 1800 and 2400 metres above sea level in the Central Cordillera of the Andean mountain ranges. We felt right at home here having spent so many years on the other side of the Andes in Cusco, Peru. It's a day hike that can easily be done on your own by catching a willy or jeep taxi from the nearest town of Salento. Though popular with tourists, it's not crowded and this particular walk gave us a renewed sense of peace and serenity.
Tayrona National Park
Tayrona National Park lies further north, where the Sierra Nevada mountains meet the Caribbean coast. Here you'll find stretches of golden sand beaches lined with coconut palms that look out onto coral-rich sea. In the backdrop, ancient rainforest and indigenous ruins mark the foothills of the Sierra Nevada de Santa Maria, the highest coastal mountain range in the world. Tourists flock to Tayrona and with good reason. It's stunning.
A small bus takes you to the trail head but from there you walk. Some visit on a day trip but to really get a feel for the place you need at least a few days. Most people stay in Cabo San Juan and swim in La Piscina. We stayed in the Jurassic Park-like area of Arrecifes located in the middle of the park which makes it an easy walk to one side or another. There are quite a number of secret unsigned beaches off the trail. Finding them usually means you'll be the only ones there. The accommodations are basic tents or hammocks. Here, be prepared to disconnect from the rest of the world as you explore the lush rainforests or lounge on the beach, taking in the fresh sea air.
Minca
Not too far from Tayrona, the hillside village of Minca is what one would call a hidden gem. Barely on the tourist trail, even Colombians don't know about Minca… yet. Up until recently, Minca was an area of paramilitary and guerilla conflict. But following a ceasefire in 2011, this little known area is seeing more and more travellers as they seek refuge and respite off the beaten path. Nestled in the foothills of the Sierra Nevada ranges, Minca is a short bus ride away from the heat and intensity of the city of Santa Marta.
It's a sleepy little town with one main loop road to get in and out. There's not much to do in the village itself other than hang out at the few cafes. But if coffee and cacao plantations, peaceful hills, and spectacular sunsets are your thing, then Minca is definitely for you. We spent our days taking long walks, visiting plantations, and cooling off in the natural swimming holes. Then we'd head back to our little glamping station at the end of the day to watch some incredible sunsets. It's the perfect break from the flurry of travel. And although not located in the better known coffee areas of Colombia, it is by far where the best-tasting coffee grows.
La Guajira 
La Guajira is like the land that the rest of the world forgot. Dusty, dry, and desolate. Hot and windy. Very poor. And other-worldly. It's the northernmost tip of South America where the ocean meets the desert. It is also the land of the Wayuu people who are best known to the outside world for their colourful knit bags. Getting around La Guajira isn't easy or direct which is partly why there aren't hoards of people visiting. But there are enough visitors to sustain a small tourism industry for those that like to stray off the beaten path.
With the perfect balance of sand, water and wind, kite surfing has become popular in this region. For us, it was more about enjoying the quiet beaches in Cabo de la Vela, exploring the (very) windy sand dunes at Punta Gallinas, and visiting the Wayuu village of Camarones where you sleep in outdoor hammocks at the only existing guesthouse. Life is difficult out here. It's a barren land exploited for its coal, natural gas and salt. It's bleakness is it's beauty. A place of sand and water and not much else. Except pink flamingos?
Hot Springs
And of course we cant leave out the thermal waters in the Zona Cafetera departments of Quindío, Risaralda and Caldas. Wherever there exists natural hot springs, we will happily go and indulge. And the coffee region of Colombia has no shortage of them. There's nothing better than being able to relax tired muscles in a pool of warm water surrounded by beautiful hills.
We love warm thermal waters so much, we've written more about our numerous visits to hot springs around the world here.
---
Magical realism lives and breathes in Colombia, like so many other parts of South America. And for people like us, finding the magic in the realism is what inspires us. It's probably why we constantly seem to find ourselves in these strange and wonderful places. But wait, there's more to come! Stay tuned for Part 2 of why we fell in love Colombia… Until next time, keep exploring, creating and guiding!

Have you visited Colombia? Do you love these places as much as we do? Are there other parts of Colombia that you love that haven't been mentioned let us know! We'd love to hear from you in the comment section below.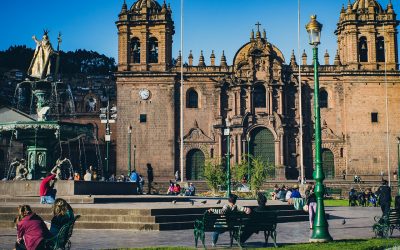 Welcome to our 2-part post about the allure of Cusco's extremes and the reasons that kept us there for so long.
read more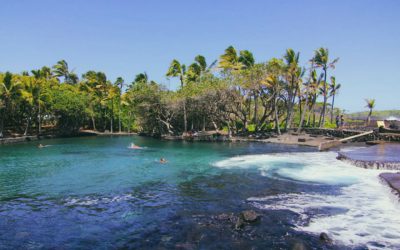 Thermal Baths, Warm Ponds, Hot Springs and all those lovely things…
read more